Brother JX2517 sewing machine is an easy-to-use machine, with all its stitch working, sews basic styles perfectly, and comes at a great price. It can hardly qualify for a professional sewing job. But it can be fine even for advanced sewing projects. 
Generally, this machine is easy to use, set up, and maintain, as long as you "befriend" the manual (which is quite good, by the way). The tension will most likely come preset, so there is almost no need to fiddle with any of the "controls." However, this machine will not perform optimally on heavy/multiple layers of fabrics. It means you will have to get another sewing machine for your quilting or heavy-duty stitching. But let's get into more details.
Do you have a particular question about Brother JX2517? Then use the table of contents below to jump to the most relevant section. And you can always go back by clicking on the arrow in the right bottom corner of the page. Also, please note that some of the links in this article may be affiliate links. For more details, check the Disclosure section at the bottom of the page. 
Brother JX2517 review 
You will hardly find any machine so easy to use for both a beginner and advanced tailor than the Brother JX2517. It has 17 unique built-in utility and decorative stitches that help you sew both basic and advanced stitches. Plus, you can make buttons in four simple automatic steps when sewing with this machine.
Suppose you have problems with threading machines previously. In that case, this will provide a better experience with its automatic bottom bobbin threader option.
Using the drop-in bobbin on this machine is also simple and "sweet"; it is jam-resistant and quick to set up. Therefore, it's bye-bye to fishing for bobbin thread. Although you may not get the speed of a fast-running machine, the foot pedal still comes as responsive as most other machines.
For all the features on this machine, it is not as heavy as you would hope. It has lightweight. And compared to many other models of the same capabilities, this machine is far cheaper and does not compromise its functions. The LED on this machine provides extra light on the workspace and helpful in low-light places.  

Main features
17 built-in stitches
38 stitch functions
4-step buttonhole maker
Easy automatic bobbin winding system
Brightly lit LED work area
Free arm 
Easy-to-use blind hemstitch
Pattern selection dial
Upper thread tension control dial
Jam-resistant quick-set drop-in top bobbin
10 pounds

Brother JX2517. SYS rating, pros, and cons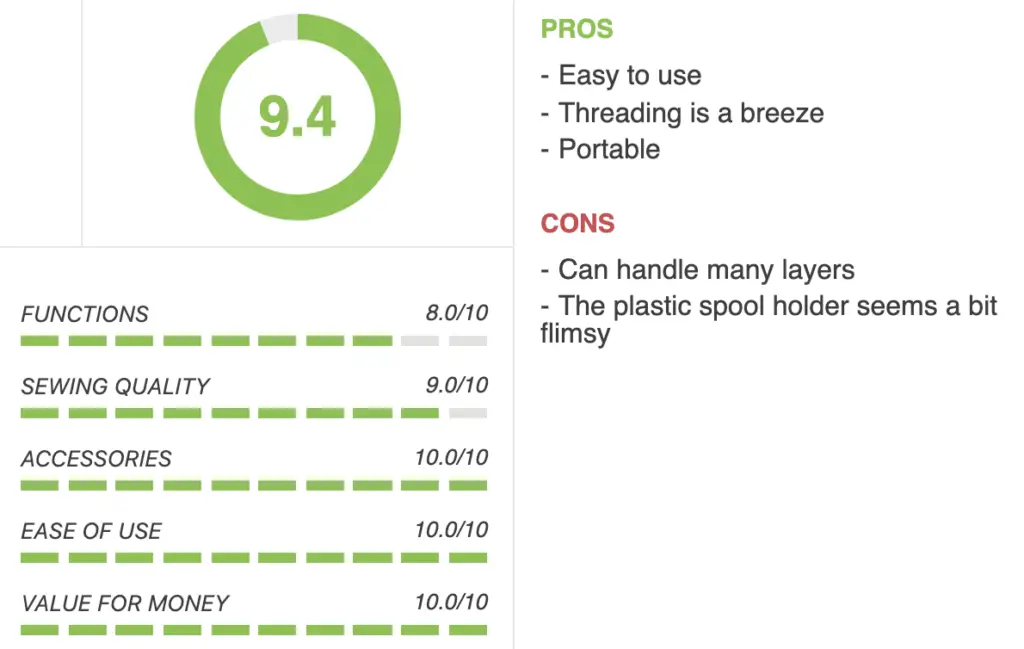 Brother JX2517 manual 
You can download the full manual here.

Video guidelines

Brother JX2517. FAQ and Troubleshooting
How to thread Brother JX2517? 
How to wind a bobbin Brother JX2517?
How to replace the needles on Brother JX2517?

Brother JX2517 accessories
This model comes with an impressive package of extras. You'll get 4 additional feet to start with (zipper, zigzag, buttonhole, and button fitting).
And you will get a bunch of other little bonuses – from a set of bobbins and needles to seam ripper, and screwdriver. And of course, foot controller and manuals. It basically has anything to get you started right out of the box. Just get your fabric and threads and you are ready to go.

Is Brother JX2517 really a good one? Our verdict 
As long as you understand that this machine is not for your professional sewing jobs, then you are fine. However, it fairs well for basic sewing and stitching jobs. The decorative and blind hem stitches are quite fantastic. 
The inexpensive cost of the machine gives it an edge over many of its competition. The parts are simple and easy to maintain and set up. Some use it for light quilting and fairly heavy jobs. However, it can affect the life span of the machine. Also, it is easy to carry about.
This machine is a good asset in the hands of a beginner or intermediate skill level tailor and okay for a professional.
Credits: photos by Canva

Disclosure: at sewingyourstyle.com we only write about the products that we've researched and considered worthy. But it's important to mention that we are a participant of several affiliate programs, including Amazon Services LLC Associates Program, an affiliate advertising program designed to provide a mean for us to earn fees by linking to Amazon.com and affiliated sites. As an Amazon Associate sewingyourstyle.com earns from qualifying purchases.