Whether you have had a dream dress in mind or were just searching lightly on the internet, finally deciding on the perfect dress and clicking that buy button. Some time later, and you go it in your mail. Then opening that package as if it were a gift? Exciting! 
Especially when you have to wait for it. Unfortunately, not everything online is not what it seems, or you realize later on that what you bought is a dress too long for you. But don't worry as there are a few easy ways to fix that yourself, whether temporary and permanent. 
Returning a dress can be a hassle and troublesome. This is true not just as an individual but also for the environment and the whole clothing industry. This, in fact, is a problem for the retail industry and is something they'd like to fix. So why not just help the planet, yourself, and the industry by doing a bit of DIY! 
Do you have a particular question about the subject of this article? Then use the table of contents below to jump to the most relevant section. And you can always go back by clicking on the arrow in the right bottom corner of the page. Also, please note that some of the links in this article may be affiliate links. For more details, check the Disclosure section at the bottom of the page. 
How to shorten a maxi dress with a knot?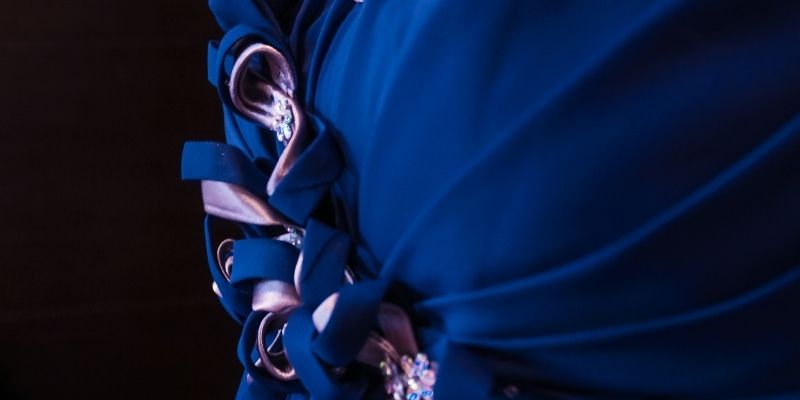 The quickest way to shorten a dress without any materials and equipment is to tie a knot. This is not just shortening the dress but actually styling it. The first thing to do is to decide where you want to place the knot. Gather fabric at the bottom of the dress (enough amount of fabric), then loop it around your hands, pulling the end of it through the loop. It's basically a regular knot!
The knot size and where you place it are all up to your style and depends on the occasion. Maybe you want to show off one leg (a side leg look), or maybe just in the center if you are at the beach and want to walk along the water. Keep in mind also this usually works only on softer or silkier materials. Some materials are a bit stiffer and are harder to knot. Hence, why we have some other ways to shorten it.

Easy way to make a dress shorter with the hem tape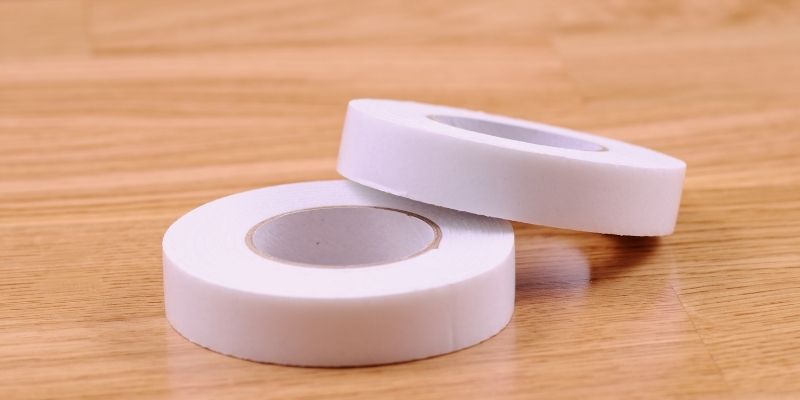 Tying a knot to the dress may not work as efficiently on some materials. And overall, it may not give the 'professional' look if you are looking for it. That's when you might want to use hem tape. This is the only material that is needed; plus, it's invisible. It is double-sided and will work on any material or piece of clothing.
This is meant to be a temporary fix, making it easier to reverse and play around with the style of shortening a dress. A word of advice, wear your shoes with the dress, then use pins to properly mark how long you really want your dress to be.
Especially if you are wearing heels, it really helps put your outfit on all together first, then deciding the length. Otherwise, it may result in a dress too short.

How to make a dress shorter with safety pins?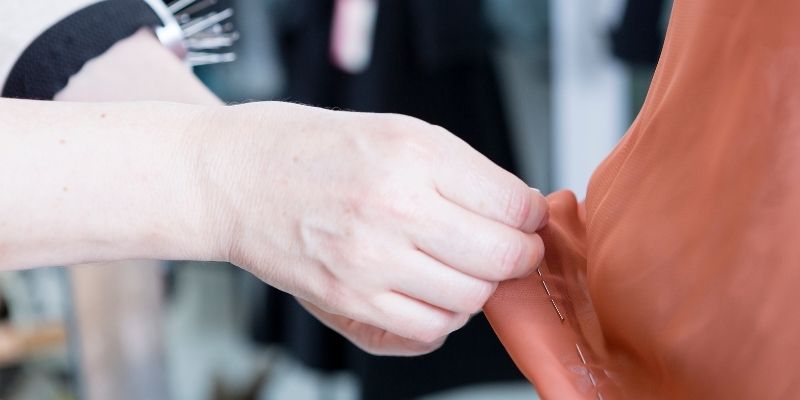 Speaking of pins–you can use safety pins! This is also a very easy solution for those who are not so keen on sewing. You do not need to learn how to properly sew or knit for this, just the basic knowledge of these pins' function! To shorten a dress evenly throughout, 
you will need a couple of safety pins. Once you have decided on the length, mark that spot and make sure the length below the marks you make is consistent throughout. Fold the cloth inside the dress's circumference, then use the safety pins to attach the two layers together.
Then voila! You could first place it on a hanger to see if you were consistent throughout the dress. From there, you can use the safety pin from inside the dress so that it is not apparent you used pins.
Also, keep in mind that the safety pin has had some symbolic meaning in America, especially in politics. So, be careful about how and where you wear it if it were to show evidently.

How to make a dress shorter with a belt?
Another easy way to cut (and style!) your dress is to use a belt. This is mainly for super long dresses or for those who are petite. The type, size, and color of the belt are all up to you. But I recommend starting with a thin waist belt so that it is not so obvious and that the attention is still on your dress.
The belt is basically there to use as an anchor. So the next–or main–thing to do is pulling/folding the fabric over the belt to raise it further off the ground. If you fold it over too much the waistline, the top half of the dress will look too loose/blousy. This is a very simple technique but is only helpful if you need only a few centimeters. It's not much of a dramatic change. 
Get paid $25-$50 per hour working online. Find out more about this life-changing opportunity and learn if it's right for you here.

Other ways to temporarily shorten a dress
Other ways of shortening a dress include sewing–which is probably the most obvious choice. Of course, this method requires you to pick up this skill and become quite good with it for the best results. It is probably the most effective way to shorten a dress.
Because with the right fabric and the perfect sewing skills, you won't be able to see any sewing lines, pins, or dirty marks. There are basic sewing methods that are reversible. With enough care and patience, you can temporarily style the dress the way you want it. 

Best way to shorten a dress without cutting it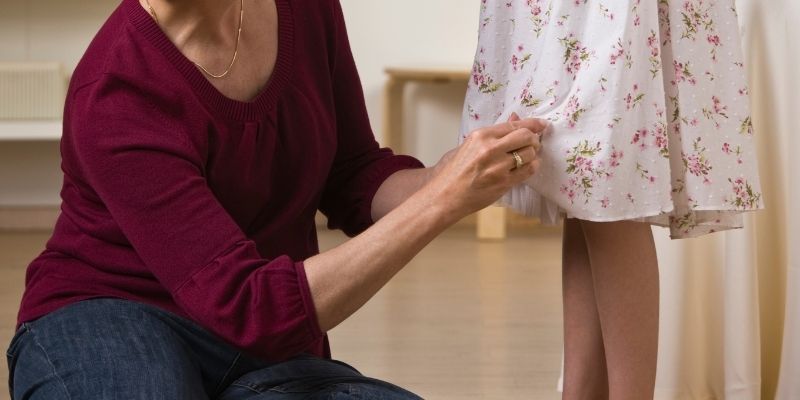 I would say that the best way to shorten a dress is to use some hem tape (e.g., this one looks good in price/quality/application departments). This technique is fairly cheap, requires only the tape, and does not require any prior skills in sewing. If done correctly, it may even look like it was initially that length since it is double-sided and clear. Plus, since you already have the tape, you might as well play around with it and style it the way you want. The designer is you! With some creativity, you could shorten it in different ways.  
Credits: photos by Canva

Disclosure: at sewingyourstyle.com we only write about the products that we've researched and considered worthy. But it's important to mention that we are a participant of several affiliate programs, including Amazon Services LLC Associates Program, an affiliate advertising program designed to provide a mean for us to earn fees by linking to Amazon.com and affiliated sites. As an Amazon Associate sewingyourstyle.com earns from qualifying purchases.