If you are only here to learn about the best sewing chair my top choice is this hydraulic sewing chair by Arrow Sewing Cabinets as you can sew and craft for hours with perfect support and it looks AMAZING. Along with this office chair, which is not seem very "crafty" but it does the job of keeping you comfortable done and it's the most affordable chair considering it's value for your back and neck. Otherwise keep reading. I have a lot of things researched for you.
Are you interested in a particular question about the subject of this article? Then use the table of contents below to jump to the most relevant section. And you can always go back by clicking on the black arrow in the right bottom corner of the page. Also, please note that some of the links in this article may be affiliate links. For more details, check the Disclosure section at the bottom of the page. 
Compare best sewing chairs
$76.99
in stock
11 new from $76.99
as of March 22, 2023 11:20 am
$329.00
in stock
7 new from $329.00
as of March 22, 2023 11:20 am
out of stock
as of March 22, 2023 11:20 am
out of stock
as of March 22, 2023 11:20 am
$229.00
out of stock
7 new from $229.00
as of March 22, 2023 11:20 am

What is a sewing chair? And how is it special?
What makes the "sewing chair" different from that of the office chair? Both should provide proper support and comfort, right?
The truth has been told, sometimes it's all about marketing. 
So you don't really need to buy a chair called "sewing" to work on your craft. 
But you certainly need to invest in a comfortable place to work. 
Even though there are not that many studies on the health of sewers, I found one, published in J Occup Health in November 2016. The researchers were observing and interviewing 632 craft workers. 88.8% of all participants reported various musculoskeletal complaints, including neck (57.9%), lower back (51.6%), and shoulders (40.5%).

So, having a good sewing chair is not a joke or an unreasonable desire.
After all, you're most likely to spend a lot of time sitting while planning your masterpiece. And you've got to make sure you're comfortable enough to remain as productive as possible. So, let's take a look at your options that will do the trick and also cover all the potential pros and cons of the purchase.

Best sewing chair: our top choice 
This chair has been built with the sewers in mind. And even though the office chair, in many cases, will provide you with the comfort you need, this one still gives you so much more. It has a 360 ° swivel base for increased movement and stability and 5 casters for moving around. It features under-seat storage for all the little things and extras you might need for work.
You can change the height from 18″ to 22″ and switch around your house to find the best place to work. It's super comfortable and super cute. Yes, it's on the pricier side. Still, sometimes you've just got to get those little things you deserve, particularly if you are taking your sewing seriously.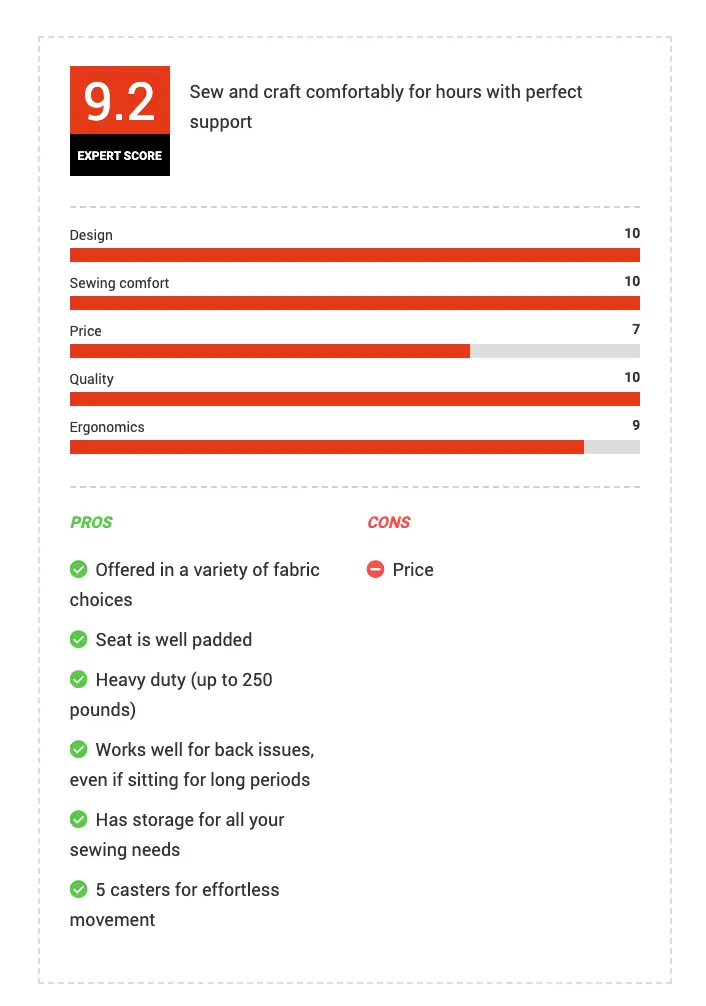 Sewing chair with storage
It's a colorful heavy-duty chair that will be a perfect addition to your craft room. It offers ideal lumbar support, and its soft cushion is soothing for those long hours of sewing. It features 4 casters for greater mobility and a secret storage compartment for your little things or patterns. Strong birch legs and base make it a sturdy and lovely addition to your space. Very well made of beautiful upholstery fabric that will serve you for years to come.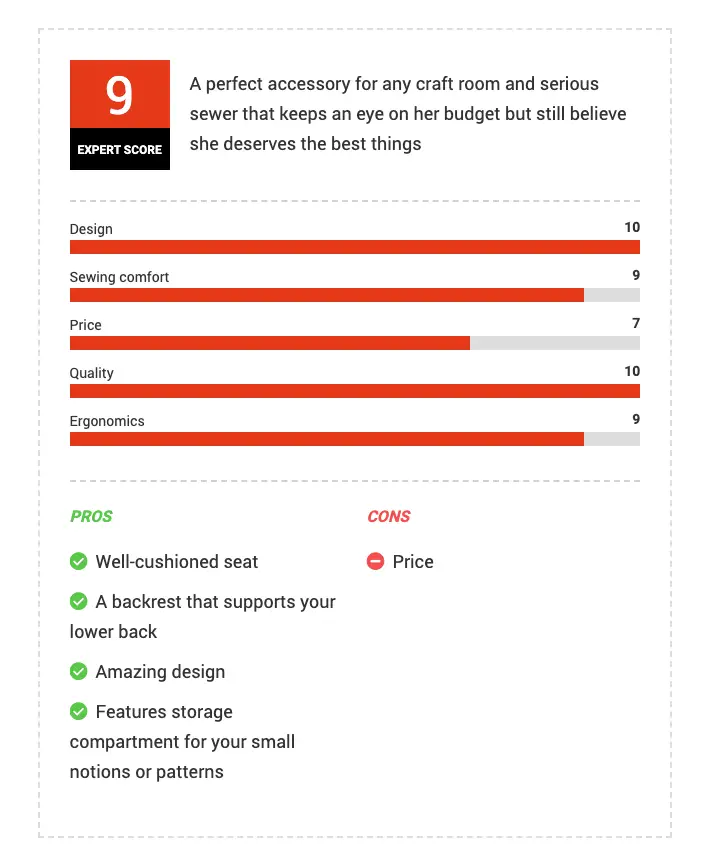 Cheap and good sewing chair 
Utterly fantastic chair at a bargain price. You can adjust its height up and down with a pneumatic gas lift to match different sewing conditions. And also change the depth of the back. The seat is very comfortable. And perhaps the best features are the built-in lumbar support and waterfall seat design that reduces stress on your legs during extended sewing sessions. It might not be made of the most expensive materials, but it gets the job done.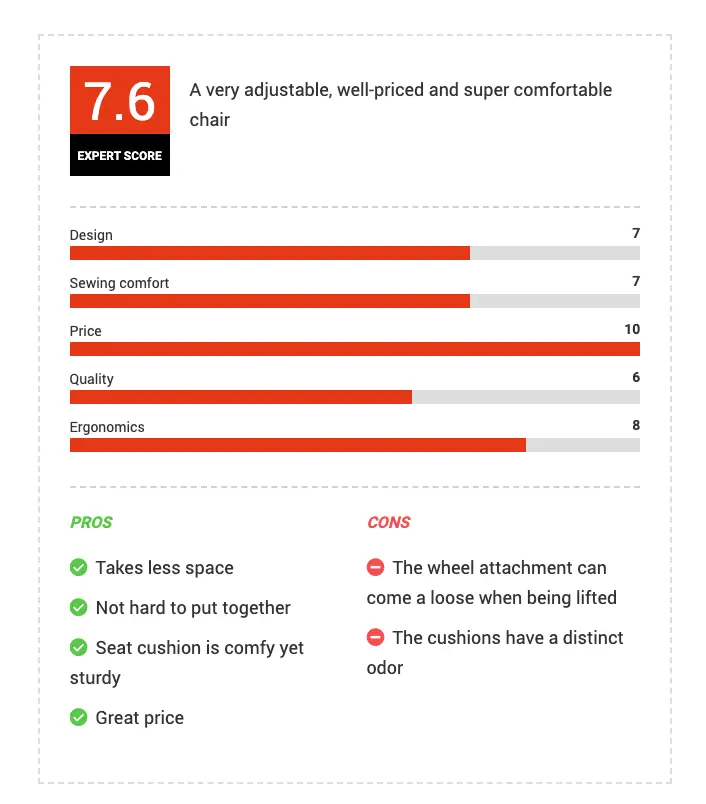 Best ergonomic sewing chair
A lovely chair, both stylish and comfortable that won't break the bank. Solid roller casters allow smooth movement, and a 360-degree swivel enables even more flexibility. The height of the chair can also be changed, although not at the most robust level. It's built in a way that encourages a healthy sitting posture. And features a thick, comfortable seat and backrest that will provide you with all-day support. It's actually very comfortable and durable, and it's just about the right size.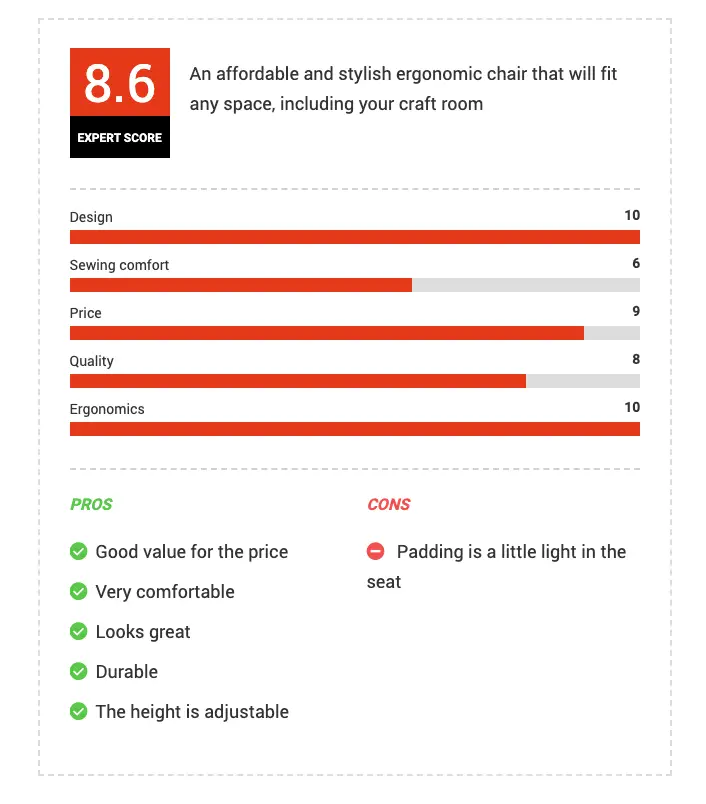 Sewing chairs with back support and footrest
This chair is packed with loads of features (while still one of the most affordable options on the list). Once you sit on it, the back can move for your convenience plus you can quickly return it back by simply pulling the handle under the seats. The wheels under the chair are of good quality and don't make any noise.
It's super comfortable for sitting in for long periods and reclines far enough to really get some rest. The high back gives strong back support that is helpful while you're working.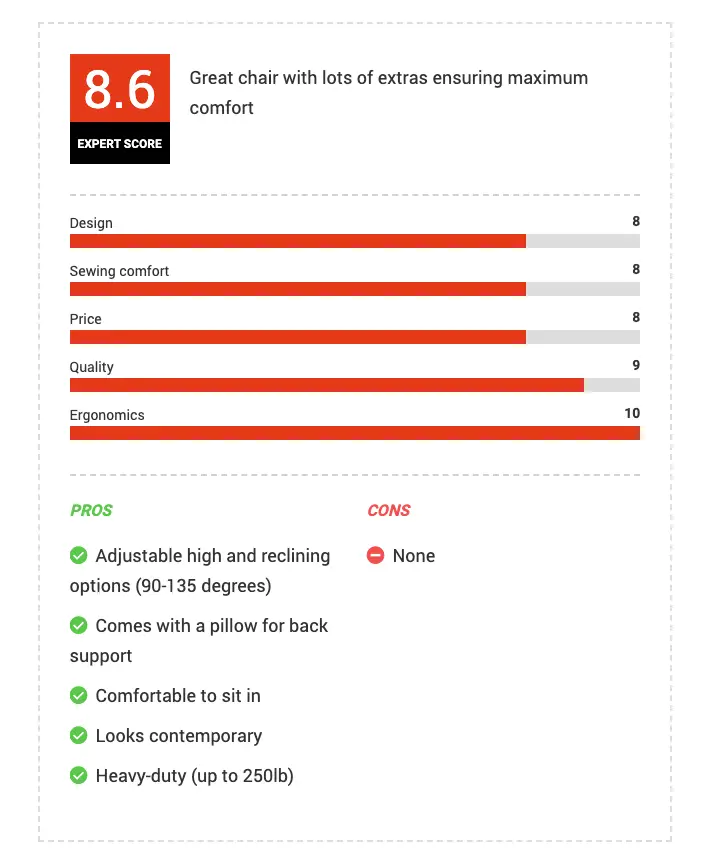 Why bother buying a sewing chair at all?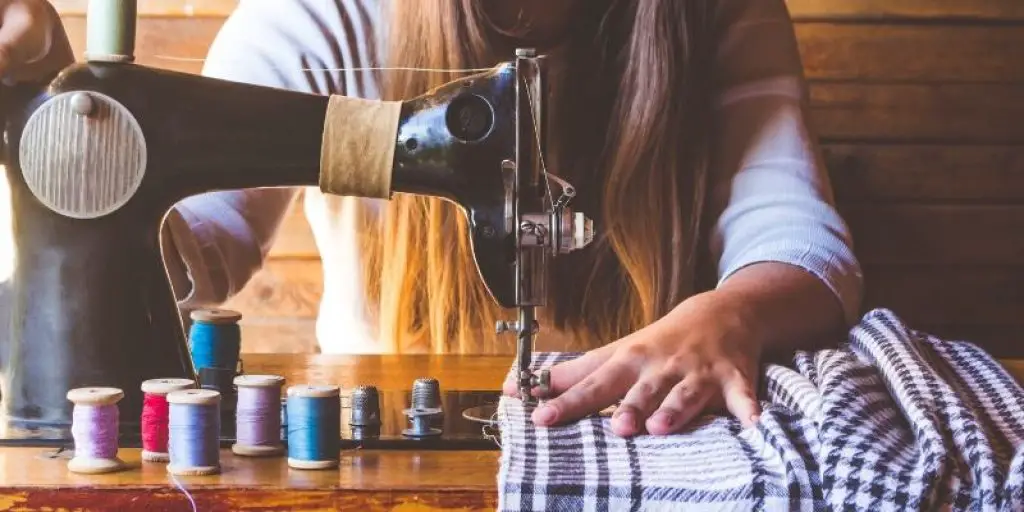 If you have issues with your back, you certainly need something with proper support and not just a regular chair.  
When you devote hours to basting, cutting, and drawing patterns at your sewing table, something more substantial is required. You owe a great chair it to yourself. After all, you're going to spend a lot of time on it!

What should a good sewing chair do? 
Whichever chair you end up selecting, make sure you review each unique feature to make the best choice possible. 

Holding your Knees the Right Way: you can use a sewing chair to support your feet on the floor, and your knees have to bend at a relaxed 90 degrees.
Get up and Move Regularly: One of the easiest ways to prevent soreness and back pain is to make sure you take breaks from sitting regularly. Seek to get up at least once an hour and walk around for ten minutes, stretching your back and legs. Your body is going to thank you later!
Adjustability: A low sewing chair is required for proper sewing. Your chair should be low enough so that your elbows form a right angle while your hands are level with the needle of your machine.
Proper Alignment: While you are sewing, you have the habit of having your hands, wrists, and arms in a straight line. This will help you sit straighter and reduce the tension in your arms, back, and wrists. Make sure that your chair will help you to achieve that.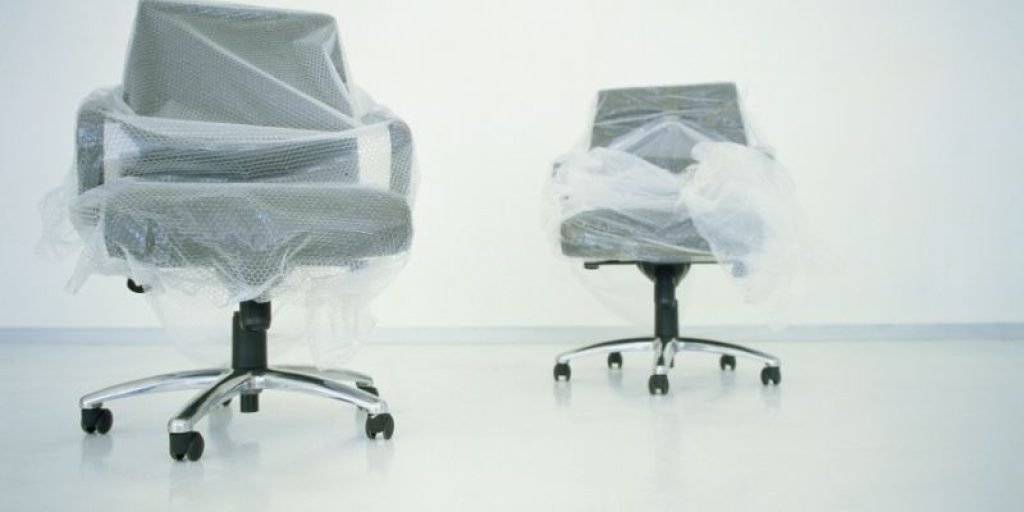 Which features to consider? 
Type of chair 
The best sewing chair is the one that will keep you comfortable while allowing you to move quickly. Sewing is not always easy, and you need a chair that supports the specific movements that your various sewing tasks need.

Type of wheels
 I recommend you use solid castor wheels. They're going to help you pass from point A to point B and back smoothly again. 

Padding 
You don't want too much padding, and you don't want too little padding. Too much makes it hard to sit comfortably, and too little may not give you the comfort you want.

With or without arms
If you can work without needing to rest your arms, or if you need to shift your arms in such a way that the armrests impede the movement, then you should not have the armrests on your sewing chair.
But if you have other physical conditions that make it hard to work without armrests, you can have them on your sewing chair. Many physical conditions, such as pregnancy, may also affect the answer to this question.
Material 
Some materials have specific tasks to perform. For example, a good sewing chair with a mesh back ensures that your back remains comfortable as you get the support it needs. It can breathe and stay warmer too.
But cotton is nice and comfortable and makes for an excellent outer cover when you want warmth without feeling like you're in the luxury lap. But if you do want some luxury, then leather is the way to go. It's durable and very comfortable. Plus, it brings a classy look and sophistication to your sewing room.
Ergonomics 
For better ergonomics, you need to change your seat so that your arms are comfortable at your sewing table/machine. 
When you adjust to this and your legs, don't touch the floor (mine definitely don't) use the frame to rest your legs (and foot pedals) on. You're going to be shocked at how much more relaxed this is.

Credits: photos by Canva

Disclosure: at sewingyourstyle.com we only write about the products that we've researched and considered worthy. But it's important to mention that we are a participant of several affiliate programs, including Amazon Services LLC Associates Program, an affiliate advertising program designed to provide a mean for us to earn fees by linking to Amazon.com and affiliated sites. As an Amazon Associate sewingyourstyle.com earns from qualifying purchases.